Where is Lake Garda?
Lake Garda, with its mild climate and perfect water temperature, lies between the Alps and northern Italy's Pianura Padana (i.e. the Po River Plain). Lake Garda borders to three Italian Regions of Lombardy, Trentino Alto Adige and Veneto.
Where is Lake Garda in Italy on the map?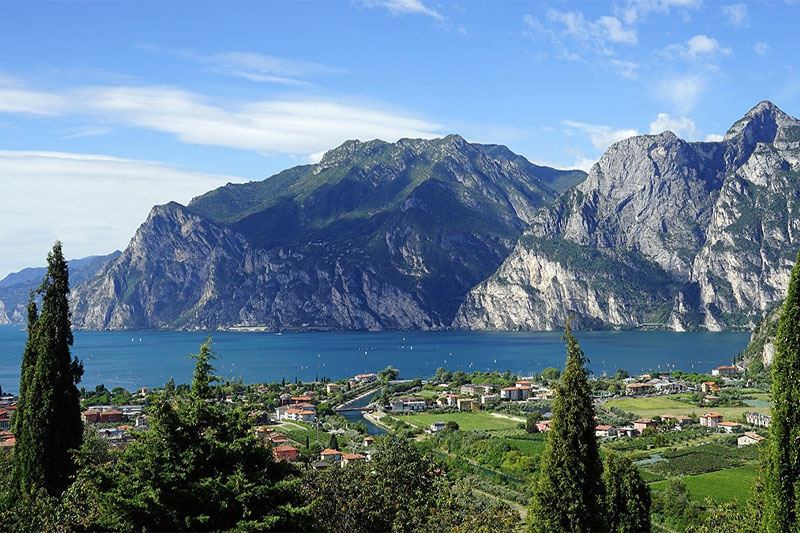 Are Lake Garda ferries running?
It is a good idea to take a boat and travel around Lake Garda; navigation can be private, if you decide to rent a boat, but also the public transport service via ferry and boat is used, active all year round.
Navigation on Lake Garda is managed by the Ministry of Transport together with Navigarda and ensures you a fleet of over 20 boats that connects the bigger towns of the lake. The service was designed to avoid clogging of the roads during the summer high season on the shores, and dates back to the late 1950s.
The provinces of Verona, Brescia and Trento unite the western and eastern shores, as well as many ports that welcome visitors to Garda in different locations.
In particular, for those who have to transport cars, motorbikes or bicycles, there is a ferry service on the Garda that shuttles between Torri del Benaco on the Veronese coast, and Toscolano Maderno on the Brescia coast. Another itinerary has been improved with the connection between the shores of Malcesine and Limone sul Garda, and the one between Desenzano del Garda (province of Brescia) and Riva del Garda (in Trentino).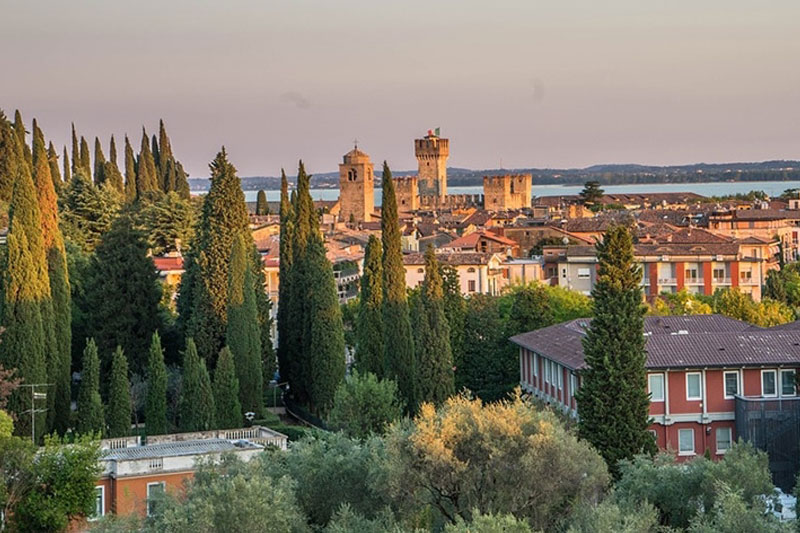 What region is Lake Garda in?
Lake Garda, also known as Benaco, is the largest lake in Italy, with its 370 km² surface and is situated among the three Italian regions of Lombardy, Veneto and Trentino-Alto Adige.
Is Lake Garda in Lombardy?
71 km is the distance between Lombardy and Lake Garda. The road distance is 135.7 km.
Is Lake Garda expensive?
A vacation to Lake Garda for one week usually costs around €932 for one person. So, a trip to Lake Garda for two people costs around €1,863 for one week. A trip for two weeks for two people costs €3,726 in Lake Garda. If you're traveling as a family of three or four people, the price person often goes down because kid's tickets are cheaper and hotel rooms can be shared. If you travel slower over a longer period of time then your daily budget will also go down.
Is Lake Garda worth visiting?
It is worth taking a tour around Lake Garda visiting all the towns & villages. Lake Garda is good for shopping and outdoor activities.
Lake Garda is also a good base to visit Verona and Venice.
Which Lake Garda town should I visit?
Lake Garda has dozens of tiny towns dotting the coastline, but we don't have all the time in the world! So we recommend you to check out these Italian villages in Lake Garda. Sirmione, Garda Town, Salò, Gardone Riviera, Limone sul Garda, Arco, Riva del Garda, Bardolino, Malcesine, Desenzano del Garda, Torbole, Lago di Tenno, Peschiera del Garda, Moniga del Garda, Lazise.
Which airport is closer to Lake Garda?
There are a number of different airports you can fly into for reaching Lake Garda, so just check which one has the best deals from the city you're flying into. The most popular airports to arrive in are either Milan (MXP) or Venice (VCE). It it worth to check out also Villafranca di Verona airport.
Can you swim in Lake Garda?
Perhaps more importantly, Lake Garda is also an exceptional beach destination. There may be no ocean, but the lake itself offers some wonderful beaches for swimming and sunbathing during hot summer days.
Summer goes from June to September but may be possible to swim in April.
Can you cycle around Lake Garda?
By 2021, the completion of a 140 km cycle path around Lake Garda is planned. For the ambitious project Garda by Bike, partially existing bike paths will be used and additionally new tracks will be built.
The circumnavigation of Lake Garda on one single bike path is the dream of many bikers, and it's getting closer.
On July 14, 2018, a particularly beautiful section was opened. An approximately 2 km bike path leads from Capo Reamol in Limone sul Garda on the west coast in north direction. It is partly built close to rugged cliffs and also above the water and therefore gives fantastic views. However, it does not already reach Riva del Garda.
The new bike path is wide and suitable for families as there are no steep climbs. The bike path is paved with planks of wood and is comfortable for all types of bikes. It impresses not only cyclists but also pedestrians with scenic beauty, and architectural elegance.
The Garda by Bike project involves the regions of Lombardy and Veneto, as well as the province of Trento. Links to European cycle routes such as Eurovelo Route 7 and Eurovelo Route 8 are also planned.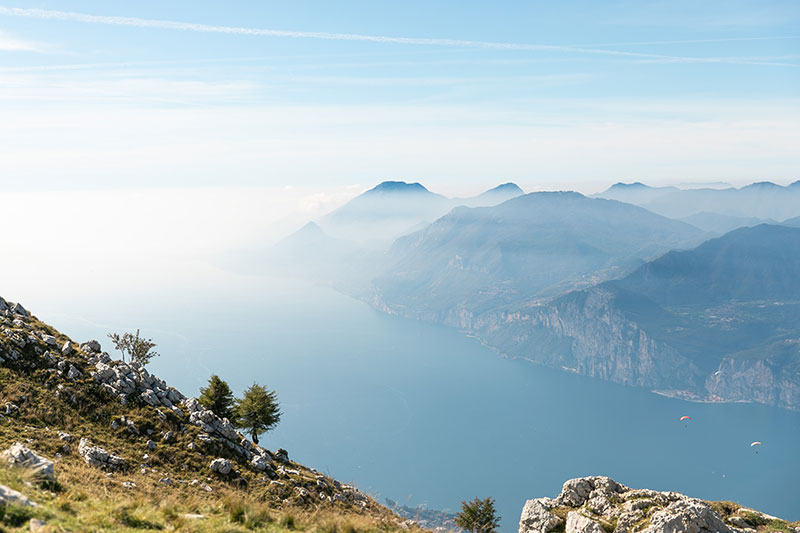 When was Lake Garda formed?
Lake Garda was formed during the last Ice Age – the Quaternary Ice Age – about 1.5 million years ago.
How was Lake Garda formed?
A piedmont glacier (a glacier that spills over to flat land), which flowed down Brenta Dolomites, cut the path for the lake, resulting in Lake Garda's axe-like shape.
How far Lake Garda to Venice?
The distance between Lake Garda and Venice is 131 km. The road distance is 187.7 km. How long does it take to get from Lake Garda to Venice? It takes approximately 3h 49m to get from Lake Garda to Venice, including transfers.
How far Lake Garda to Verona?
The distance between Lake Garda and Verona is 35 km.
How deep Lake Garda?
The depth of Garda is big, being at the maximum point between Castelletto di Brenzone and Muslone, of 346 meters. On average, however, its depth is about 136 meters.
How long is Lake Garda in miles?
Lying at an elevation of 213 feet (65 m), the lake is 34 miles (54 km) long and 2–11 miles (3–18 km) wide, with a shoreline of 77.5 miles (125 km) and a maximum depth of 1,135 feet (346 m).
Is Lake Garda clean?
Yes, the water in Lake Garda is clear, clean and cold! Sirmione has a very nice shingle-beach area with lots of people swimming in the lake.
Why go to Lake Garda?
Everywhere you go, you will fascinated by stunning sceneries and views filled with olive trees, lemon groves, palms, oleanders. Just go discover every little town of Lake Garda and listen to the stories that local people has to tell to its guests!
Curiosities
One of the first and most famous personages in history to remain spellbound by Lake Garda was Latin poet Catullus, whose family had a villa in Sirmione. Later, Dante, Goethe, Ugo Foscolo, Lord Byron and Stendhal all waxed poetic on Garda and its environs. Not to be left out are Giosuè Carducci; Gabriele D'Annunzio, of course, who spent the last 17 years of his life in the Vittoriale degli Italiani; James Joyce; Ezra Pound; and Franz Kafka, resident of Desenzano and Malcesine from 1909 to 1913.